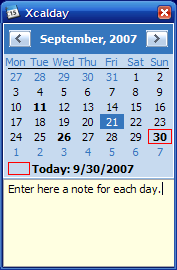 I get questions asking for the simple calendar I have on my desktop and thought I would share where I got the calendar.
The program is called Xcalday.
It is a great tool to keep track of webinars, appointments and especially efficient in keeping track of virtual tour days. As soon as your computer boots up and shows your desktop…there is the calendar showing you what you have going on for that week,day and month at a glance.
Here's how the author describes it:
Xcalday is a very simple to use calendar that allows you to write one note for each day.
Just click on any day, and enter a note.
No need to save, it's saved automatically.
Days with notes appear bold in the calendar.
Xcalday takes minimal space in memory and on disk.
All notes are saved in simple text files.
I  find this little calendar so helpful in keeping my day organized. What do you think  about this little calendar…do you find it helpful? Leave a comment and share.